Cardano Price predictions 2022, 2025, and 2030. Is ADA a Good Investment?
This article helps readers understand the Cardano cryptocurrency and provides Cardano Price Predictions for 2022, 2025, and 2030.
Cardano is a layer-1, blockchain for smart contracts, similar to Ethereum. Cardano's market cap has grown from $5 billion to approximately $43 billion in 2021. Furthermore, following the recent Alonzo upgrade. Many cryptocurrency analysts view Cardano as credible threat to Ethereum and subsequently raised their long-term Cardano price predictions.
Cardano's Founder
Cardano is the brainchild of Ethereum co-founder Charles Hoskinson, who studied analytic number theory at the University of Colorado Boulder. As a founding member of Ethereum, Hoskinson is aware of its limitations. After leaving Ethereum, he formed 'Input Output Hong Kong' (IOHK) with former colleague Jeremy Wood to build Cardano into a cheaper, faster alternative to Ethereum.
Project Road Map
The Alonzo upgrade in September 2021 started phase three of Cardano's five-step road map. The scheduled upgrades, named after famed mathematicians, will mark essential milestones in Cardano's development.
Byron improved network security and launched the official wallet for the ADA token. Next came 'Shelley', which, according to the roadmap, would make Cardano "50-100 times more decentralized than other large blockchain networks".
The current phase Goguen, enabled smart-contract functionality, allowing Cardano to compete for lucrative decentralized finance (DeFi) projects. Basho, which aims to increase scalability is next, followed by Voltaire, which will focus on governance and self-sustainability.
Cardano's Long-term Prospects
Cardano is well placed to capitalize from the growth of Decentralized Finance. However, the nascent sector is young and fiercely contested. Recently, rival blockchains like Solana and Avalanche have emerged as serious contenders.
The key to Cardano's success relies on its road map. If the Basho upgrade delivers, Cardano's improved scalability could give it an edge over newer projects, which may slow down as they undergo hard forks and upgrades. In that event, Cardano should attract institutional investment, providing a considerable tailwind for the ADA token price.
Latest Cardano Prices Today

Cardano Price
$0.3118
Price Change 24h
+$0.0003137

0.10%

24h Low: / 24h High:
$0.3081 /

$0.3122

Trading Volume 24h
$181,297,539

11.26%

Market Dominance
1.27%
Market Rank
#9
Market Cap
$10,742,881,153

0.10%

Fully Diluted Market Cap
$14,029,132,483

0.10%

7d Low: / 7d High:
$0.3081 /

$0.3288

30d Low: / 30d High:
$0.2973 /

$0.4135

All Time High: Sep 02, 2021 (a year ago)
$3.10

89.94%

All Time Low: Oct 01, 2017 (5 years ago)
$0.01735

1696.45%

Last Updated
2022-12-08 15:21
Cardano Price Prediction for 2022
Cardano's price has dropped by more than 80 per cent year-to-date, making 2022 one of the worst years of the crypto. For the past four months, Cardano has also been in an aggressive bearish trend that has seen its value drop by over 40 per cent, with November accounting for almost half of the crypto's price drop.
Part of the reason we have seen Cardano underperforming in the markets is due to the overall decline of the cryptocurrency market and the negative impact of events such as the FTX bank run and the liquidity issues facing Digital Currency Group (DCG). In addition, the actions of a black hat hacker known as the FTX Exploitor have reportedly caused Ether to drop below the $1,200 mark, which has likely had a negative impact on Cardano as well.
Furthermore, Cardano's adoption by developers has been below par compared to other large-cap peers. Despite claims by the company that thousands of developers are building in the ecosystem, its DeFi ecosystem has a total value locked of only $63 million, making it the 31st biggest player in the industry. Many of its DeFi apps have a total value locked of less than $1 million.
Additionally, Cardano has a small market share in industries such as gaming and the metaverse compared to Ethereum, which has maintained a strong market share in these industries. This lack of adoption and market share has likely contributed to the decline of Cardano's price.
Another factor contributing to Cardano's underperformance in the markets is the lack of widespread adoption of its technology. Despite the introduction of smart contract features through the Alonzo hard fork in October 2021, Cardano has received a mild reception from developers and has not gained as much traction as other DeFi protocols like Uniswap, Curve, and Maker. Additionally, its NFT ecosystem has been relatively smaller than that of other chains like Flow, Immutable X, and Ethereum.
Furthermore, the lack of clarity on regulatory matters and the prevalence of scams and Ponzi schemes in the cryptocurrency industry have also likely had a negative impact on Cardano's performance. The uncertainty surrounding regulation has weighed on growth and innovation within the sector, and investor sentiment has likely been negatively affected by these events.
In conclusion, Cardano's underperformance in the markets is likely due to a combination of factors, including the overall decline of the cryptocurrency market, the negative impact of certain events and the actions of black hat hackers, and the lack of adoption and market share of its technology.
Therefore, as the year concludes, I expect the current bearish trend to continue. There is a high likelihood that we might see it dropping below the $0.25 price level by the start of next year.
Cardano Daily Chart
Cardano Price Predictions for 2025 and 2030
The cryptocurrency market is still evolving and may look very different in the coming years. Therefore, long-term price forecasts should be taken with a pinch of salt. Furthermore, the years ahead are unlikely to replicate the gains made in 2021. Nonetheless, even moderate growth could deliver attractive returns.
The below chart highlights two modest growth forecasts of 25% and 50% (year-over-year). The model suggests a reasonable 12-month price target is $1.63-$1.95. Moving forward to 2025, it forecasts a Cardano price between $2.60-$4.39 and as high as $9.69-$49.98 in 2030.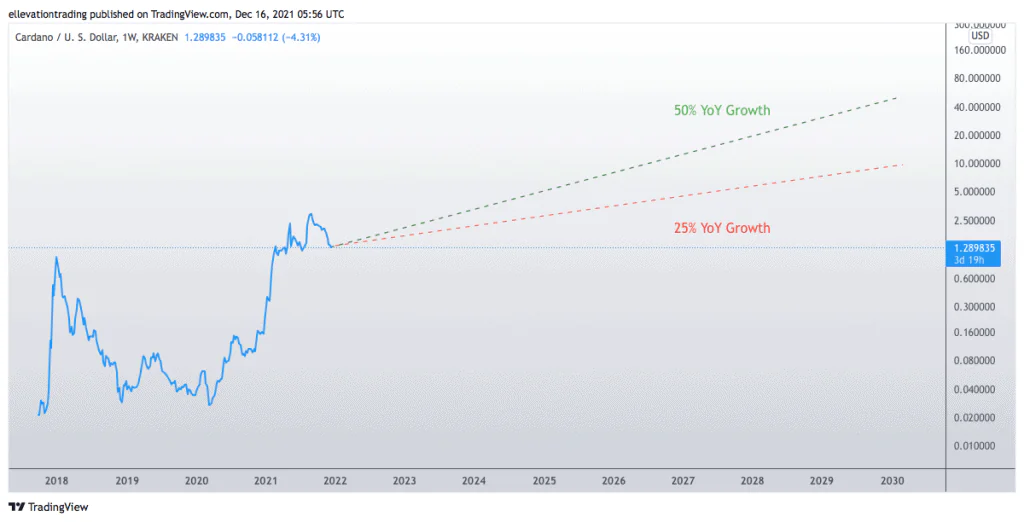 Summary
If Cardano achieves widespread adoption, the price could easily exceed the above projections. Furthermore, considering Ethereum is valued at $500 billion, Cardano's long-term prospects are good.
However, there is no guarantee that Cardano topples Ethereum. And like all cryptocurrencies, investing in Cardano is risky. Nonetheless, if the industry continues to grow and Cardano remains a major player, the rewards could outweigh the risks.
Follow us on Twitter