Ledger Stax Review 2022 | Should You Pre-order?
Disclaimer: This page is not financial advice or an endorsement of digital assets, providers or services. Digital assets are volatile and risky, and past performance is no guarantee of future results. Potential regulations or policies can affect their availability and services provided. Talk with a financial professional before making a decision. Finder or the author may own cryptocurrency discussed on this page.
The Ledger Stax is the latest hardware wallet from Ledger. It is available for pre-order and due to ship by March 2023.
The Ledger Stax offers the same level of security as Ledger's other wallets – including the Nano X and the Nano S Plus – but with a new level of usability.
The Ledger Stax has a touchscreen that allows you to sign transactions in a more convenient way than any previous Ledger wallet. Because the device is Bluetooth-enabled, you can use it in conjunction with your Android or iOS mobile device cord-free.
You'll be able to charge your Ledger Stax with wireless Qi charging, the same type of wireless charging supported by Samsung and Apple mobile devices. The charge can hold for months, especially if you don't use the device frequently.
And when you aren't using the device, you can customize the lock screen with one of your NFTs.
Keep in mind though that all of these new features and capabilities come at a price – a fairly steep US$279.
Ledger Stax pros and cons
Pros
Large electronic ink (e-ink) touchscreen
Enables clear signing for transactions with smart contracts
Wireless Qi charging
Bluetooth-enabled
Strong casing (mix of aluminum and plastic)
Sleek design (designed by the creator of the iPod)
Cons
Most expensive Ledger hardware wallet
Can't stake many cryptos via Ledger Live
Ledger Stax product features
The Ledger Stax has a number of attributes and capabilities that make it stand out from previous Ledger hardware wallets.
Sleek design
Designed by Tony Fadell – creator of the iPod – the Ledger Stax is the most attractive and visually appealing device Ledger has created thus far.
The Ledger Stax has an e-ink display that covers the front of the device and curves around its spine. The display size is 3.7 inches (672x400px). The display's colors include 16 scales of gray.
The device itself is about as thick as a stack of 5 credit cards.
Touchscreen
The Ledger Stax is the first Ledger device to have a touchscreen, which is used to both navigate on the device and sign transactions.
The only other hardware wallet with a touchscreen is the
Trezor Model T, with a touchscreen that's less than half the size of the Ledger Stax.
Personalized locked home screen
You can use one of your NFTs as an image for your locked home screen.
Wireless charging
The Ledger Stax supports Qi wireless charging, the same type of wireless charging that Samsung and Apple mobile devices support.
Internal battery
Like the Nano X, the Ledger Stax has an internal battery.
Unlike the Nano X's battery – which can remain charged for about 8 hours of use – the Ledger Stax's battery can remain charged for weeks to months, depending on how frequently you use it.
Bluetooth connectivity
Also like the Nano X, the Ledger Stax can be used cord-free with the mobile version of Ledger Live on your iOS or Android device.
The device's Bluetooth connectivity combined with its touchscreen make it the most convenient yet secure hardware wallet for managing your crypto on the go.
Embedded magnets
The Ledger Stax has magnets built into it, allowing you to attach it to magnetic surfaces and better conceal it when not in use.
Enables clear signing
All Ledger devices enable clear signing, but it's worth noting that the Ledger Stax enables this process and why this is important.
Clear signing helps reduce your vulnerability to hacks and phishing attacks when having your assets engage with
smart contracts.
The opposite of clear signing is blind signing. Often when you only use a software wallet for a smart contract transaction, you are blind signing – or approving the transaction based on trust instead of verifying all the details.
When you sign a transaction using your Ledger and a supported dapp – for instance through the Ledger Live app – you are able to verify the transaction through the clear signing process. This gives you additional details to verify, which allows you to better assess transactions and avoid scams.
Ledger Stax price
The Ledger Stax costs US$279.
This makes it the most expensive Ledger hardware wallet on the market today, as the Nano X retails for US$149 and the Nano S Plus for US$79.
The Trezor Model T is the most comparable in price, retailing for US$219.
Where to buy the Ledger Stax in the US
You can pre-order the device for March 2023 delivery on Ledger's official site.
The device will also be available at other official retailers in the future.
Ledger Stax coin support
You can manage 500+ coins and tokens when you use your Ledger Stax with its native software, Ledger Live.
You can expand the range of supported assets by using your Ledger Stax in conjunction with a third-party wallet. This allows you to manage over 5,000 coins and tokens as well as NFTs on multiple blockchains.
Managing NFTs on the Ledger Stax
You can manage NFTs on the Ethereum and Polygon blockchains with your Ledger Stax when you use it with Ledger Live.
You can also manage NFTs on a number of other blockchains when you use your Ledger Stax in conjunction with a third-party wallet.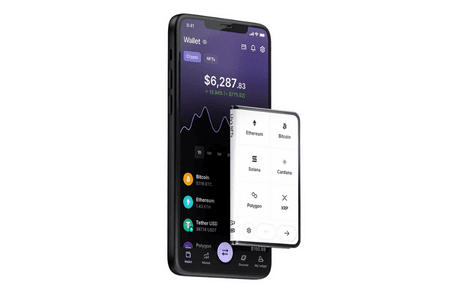 Ledger Stax security
The Ledger Stax is secured by a Secure Element chip – the same chip used to secure data for passports and credit cards and the same used in the Nano X and the Nano S Plus.
All Ledger devices have passed a Common Criteria (CC) for Information Technology Security Evaluation – an international standard for banking cards and state requirements – with a CC Evaluation Assurance Level (EAL) 5+ certificate.
The CC EAL 5+ certification ensures that a device has the highest level of security against penetration tests (hacks).
Ledger wallet specs compared
Finder rating

★★★★★

Finder rating

★★★★★
Read full review

Finder rating

★★★★★
Read full review

Dimensions
85 x 54 x 6mm
62.39 x 17.40 x 8.24mm
72 x 18.6 x 11.75mm
Weight
45.2g
21g
34g
Screen size
3.7in curved screen; 672 x 400px
128 x 32px
128 x 64px
Screen type
e-ink
OLED
OLED
Touchscreen
✅
❌
❌
Coin support
5,500+
5,500+
5,500+
Apps that can run simultaneously
Information not yet available
Up to 100
Up to 100
Storage capacity
Information not yet available
1.5MB
2MB
Bluetooth
✅
❌
✅
Battery life
Several months when left unused with no charge
No battery
8 hours
Connection type
USB-C to UCB-C; Bluetooth
USB-A to USB-C
USB-A to USB-C; Bluetooth
Native NFT support
✅
✅
✅
Security rating
CC EAL5+
CC EAL5+
CC EAL5+
Mobile phone compatibility
Android, iOS
Android
Android, iOS
Supported desktop OS
Windows 10+, macOS 12+, Linux Ubuntu LTS 20.04+
Windows 8.1+, macOS 10.14+, and Linux Ubuntu LTS 16.10
Windows 8.1+, macOS 10.10+, and Linux
Price (USD)
$279
$79
$149
Pre-order the Stax
Buy the Nano S Plus
Buy the Nano X
Ledger Stax alternatives
Our verdict
The sleek design of the Ledger Stax is highly alluring and its features and capabilities make it one of the best hardware wallets on the market today for safely managing your crypto assets on a day-to-day basis.
That being said, what the Ledger Stax has to offer comes at a price.
The device will retail for US$279, which is almost double the price of the Nano X at US$149 and more than triple the price of the Nano S Plus at US$79.
So, if you're shopping for a hardware wallet on a budget and don't plan to use your hardware wallet all that often, you might want to think twice before shelling out the US$279 for this device.
Storing the private keys to your crypto is one of the riskiest aspects of investing in the asset class. Do your homework on all
crypto wallets before deciding which is best for your assets and financial goals.
Hardware wallets are widely considered the safest way to store your crypto, especially if you plan on holding for the long term.
Hardware wallet ratings methodology
★★★★★ — Excellent
★★★★★ — Good
★★★★★ — Average
★★★★★ — Subpar
★★★★★ — Poor
We rate cryptocurrency hardware wallets by scoring each wallet out of 10 for 3 components: security, functionality and cost. Each component is weighted based on importance, as follows:
Security: 50%
Functionality: 40%
Cost: 10%
These scores are aggregated and visualized as a total score out of 5 stars.
Disclaimer: Cryptocurrencies are speculative, complex and involve significant risks – they are highly
volatile and sensitive to secondary activity. Performance is unpredictable and past performance is no guarantee of
future performance. Consider your own circumstances, and obtain your own advice, before relying on this information.
You should also verify the nature of any product or service (including its legal status and relevant regulatory
requirements) and consult the relevant Regulators' websites before making any decision. Finder, or the author, may
have holdings in the cryptocurrencies discussed.